If you're looking for additional ways to play with your Farm Sensory Kit and sneak in some fun learning with your kids. Have no fear. We've got you covered.
I recommend allowing your child to play anyway they wish. Sit back and observe your children at work. You can also narrate what your child is doing for a bit. "I see you are rolling the dough flat." This type of narration with no value statements can be incredibly important for a child's language development. Some examples of value statements to avoid during this type of narration include: "I like how you…" or "You are doing a good job at…".
Follow your child's lead. You will be amazed where their imaginations will take them! Occasionally, your child may be reluctant to get started or you may wish to subtly steer their play, or maybe your child is asking you to play and you need ideas yourself. Below are a few ideas you can use to get you started.
Book Suggestions:
The front cover and title page can give children an idea of the story. Explore these illustrations and ask your child, "What do you think this story will be about?"
Petunia causes many problems for which your child might actually know how to solve! Revisit the problems in the story and discuss how Petunia affected the characters and what could have been done instead.
This book has many words that might be unfamiliar to your child. As you read the story, look for opportunities to clarify meanings. For example, when the text says, "Petunia stole closer and closer" to the book, that can be confusing. In child-friendly terms, explain that this means she was sneaking up on the book quietly.
Look for other words to explain using child-friendly terms, for example: wise and proud.
When the hen thinks she has lost some of her nine chicks, Petunia tells her that there are six and that is more than nine. Engage your child in counting the chicks and talking about what is more and less.
Petunia lives on a farm. What animals are on the farm? What else might you see on a farm?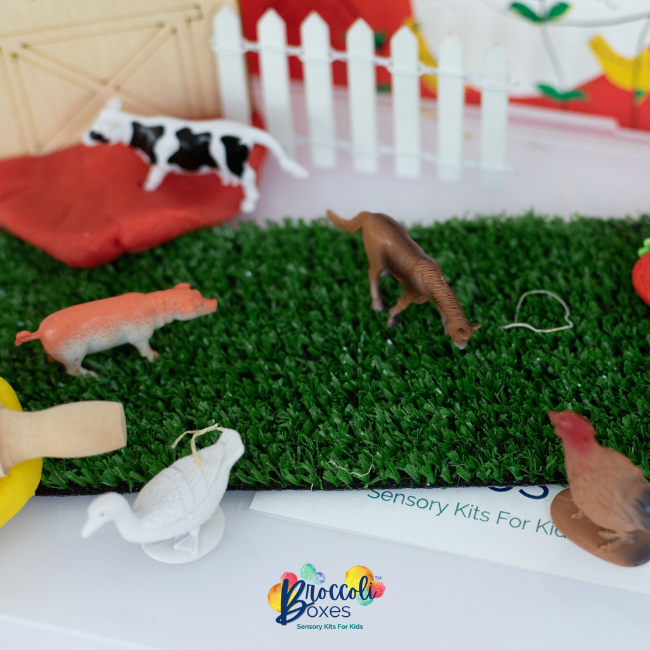 Kit Suggestions:
Using the animals and book prop, engage your child in acting out some of the story. Story retelling and reenacting are good ways to gauge what your child has comprehended from the story.
Talk with your child about the fruits and vegetables in the kit. How do those things grow on the farm? Underground (carrots), on the ground (lettuce), on a vine (pumpkin), or on a bush (strawberries) to name a few. Use the shovel to pretend to plant seeds.
Explain to your child what it means to harvest fruits and vegetables. Discuss different seasons of harvest - berries in spring, corn in the summer, pumpkins and apples in the fall.
Use the sensory dough to create more elements for the farm. Mix yellow and red dough to make orange. What orange things might you find on the farm?
Mixing all the colors will make brown which makes great dirt for planting!
Some farms also have farm stands and sell treats. Use the dough to make treats! Ask your child to make small, medium, and large treats and put them in size order.
Use all of the elements of the kit to create your very own farm! What stories might happen on this farm?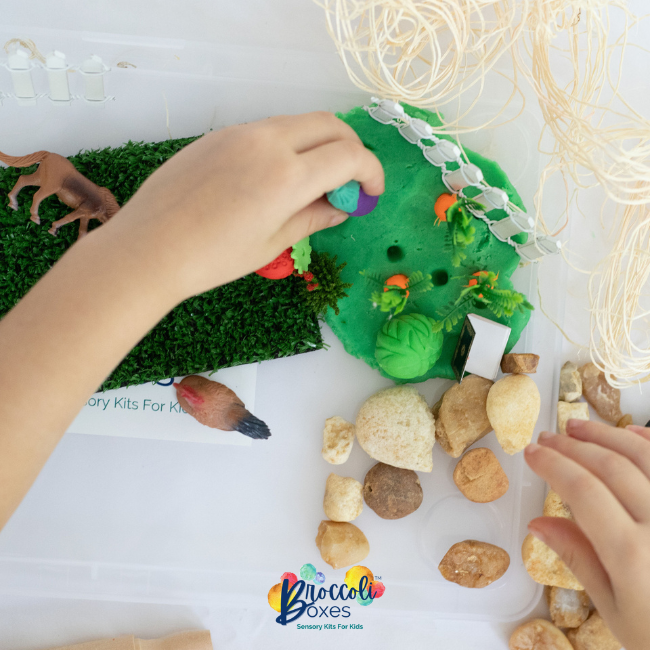 These Ways to Play are not meant to be an exhaustive list, after all the possibilities are literally endless, but more of a starting point. They also don't need to be printed and checked off as you go, but certainly can be if that's what works best for you and your family.
After experimenting with a few of these, I'd love to know which ideas worked best for you!