Did you know that the tundra is a vast, treeless landscape that covers almost 20 per cent of Earth's surface? Or that Snow covers the ground for nine months of the year when plants cannot grow?
When planning for 2023, I reached out to our Broccolinis, aka our monthly subscribers, and asked them what themes they would like to see in the new year. When a request came in for this theme, I couldn't wait to make it a reality.
Here are more than 20 simple, easy and fun ways that you can extend the play with your kids, encourage conversation, and learning all while playing and having fun!
Book Suggestions:
Day and Night on the Tundra

is an example of an informational text packed with facts and pictures. Informational books are great to share with your child(ren) as they provide many opportunities for discussion.
Informational texts are full of features for you and your child to explore. Read through the table of contents together and predict what might be in each section. Identify the page numbers, drawing your child's attention to the numerals. Table of contents and the index provide ways to incorporate math into your play.
Before reading, ask your child what they think the tundra is like based on the pictures.
After reading, ask your child if they would like to live in the tundra? Why or why not?
Read through the book and engage in conversation about the different animals and times of day highlighted. Did you know that in addition to diurnal (awake mostly during the day) and nocturnal (awake mostly at night), that some animals are

crepuscular (mostly active at dawn and dusk), and cathemeral (active during the day and night)? Use the internet sources on page 23 to investigate more about animals that live in the tundra.
The book describes different types of animal homes (burrow, den). Discuss these types of home with your child and match the animals in the book to their specific homes.
Discuss the concept of predator and prey as outlined in the book.
The activity in the book invites children to create a drawing of day and night in the tundra. Encourage your child to use the kit to recreate this activity.
Check to see if any of your animals are in the book and if so read about your animals. If your animals are not in the book, try looking up your animals online or at your local library.
Engage your child in conversations about the differences between day and night where

you live and day and night in the Tundra.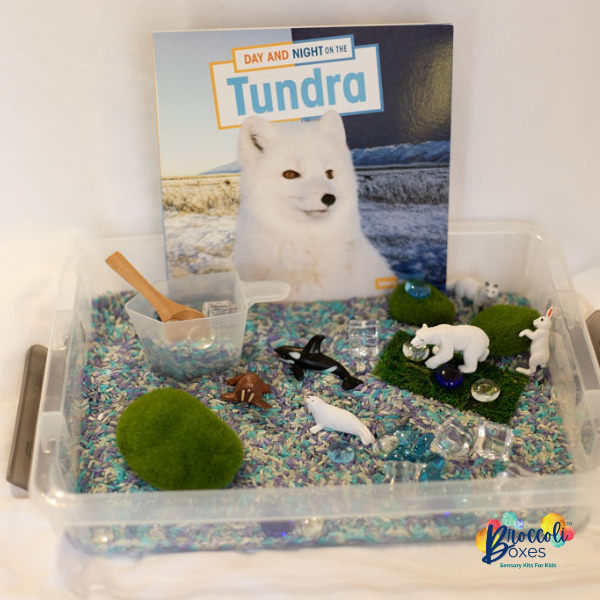 Kit Suggestions:
Explore the components of the kit with your child and prompt them by asking, "What do you think you could do with this?" If they have a hard time coming up with ideas, go back to the book and think through the items might have been included.
If there are animals in the kit that are not in the book, use resources to find out more about their habitat and other characteristics.
Animals in the tundra use camouflage to protect themselves. The mix of blue, white, and purple rice provides a great place for the animals to hide.
Encourage your child to use the measuring cup and spoon to scoop, pour, and fill. This is a great opportunity for fine motor skill development.
There are a few different types of animals in your kit. Talk with your child about what makes them similar and how they are different. Try sorting them by how they move, their habitat, or any other characteristics you can come up with.
Use ice blocks to make a tower or igloo. How high can you build without it falling?
Count the different pieces in the kit. How many ice blocks do you have? How many glass gems? How many animals? Rocks? How many pieces altogether? Which pieces do you have the most of? The least?
Separate the pieces by their characteristics such as by color, size, or shape. How many different ways can you come up with to sort your pieces?
Create patterns with the ice blocks and glass gems. See if your child can finish a pattern you create. Can you finish a pattern they create?
Look at a world map and identify where the Tundra can be found on Earth.
Have your child use the spoon to transfer rice into the measuring cup, then their hands. Ask your child which was easiest and why they think that method was easier.
Place a few of the glass gems into the cup and gently shake it. Listen to the sound it makes. Then empty it, add a couple of the ice blocks, and gently shake it. Listen to the sound it makes. Compare the sounds. Add more or less of each of the items. Does the sound change?
Add gems to the measuring cup and take turns estimating how many pieces are in there. Then count them out together.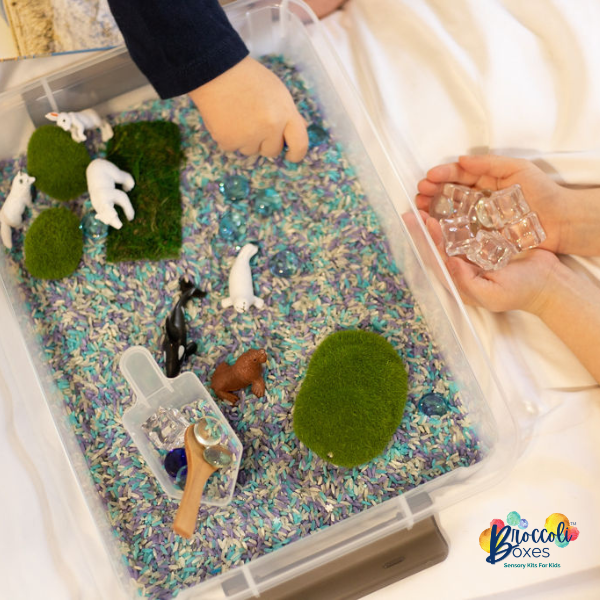 Bonus Game:
One of our young friends invented the following game for you to enjoy:

Play a camouflage game with your child. Use the light blue, dark blue, and clear glass stones and take turns hiding them. Here is one variation of the game you can play - the clear stones are neutral. The light blue stones are what your child is hunting for and the dark blue stones are hazards. If your child uncovers a light blue stone, they take it out of the box. The goal is to collect all of them. If your child uncovers a dark blue stone and touches it, you hide one of the light blue stones they've collected back in the box. Play this way until all light blue stones are discovered. Then, ask your child to hide them so you can play.
These Ways to Play are not meant to be an exhaustive list, after all the possibilities are literally endless, but more of a starting point. They also don't need to be printed and checked off as you go, but certainly can be if that's what works best for you and your family.
After experimenting with a few of these, I'd love to know which ideas worked best for you and if you tried the Bonus Game, please leave a comment and let me know. Our young friend, would love to know that others enjoyed the game he invented!
Looking to get your own Tundra Sensory Kit? Shop kits, minis, and jars here.