"If you don't know how to ask questions,

you discover nothing."
- W Edwards Deming
The key to asking good questions and being able to learn more about your child, as they give well thought out and expressive answers, is asking open ended questions. But, what are open ended questions? They are questions that can't be answered with a simple yes or no and usually have more than one correct answer. Answers to open ended questions will typically require more than a one word in response.
When I was a student at the University of Florida learning how to become a teacher and write lesson plans, one of the things we had to do was write out the questions we were planning on asking our students. The exercise was an important reminder that the questions we ask kids matter. Asking high quality questions does not usually come without some preperation and understanding of why it matters.
Benefits of Open Ended Questions
When we ask children questions we are communicating that we value them (mindtools.com) and their experiences. We are also encouraging their language development, their critical thinking skills, as well as modeling the process of asking high quality questions (Strasser, 2019).
According to Wasik and Hindman (2013) these open ended questions also encourage children to:
Use language by giving longer answers that help build a wider range of vocabulary.

Think about their answers and give details to reasonably answer the question presented to them.

Elaborate on details, express thoughts, and offer opinions.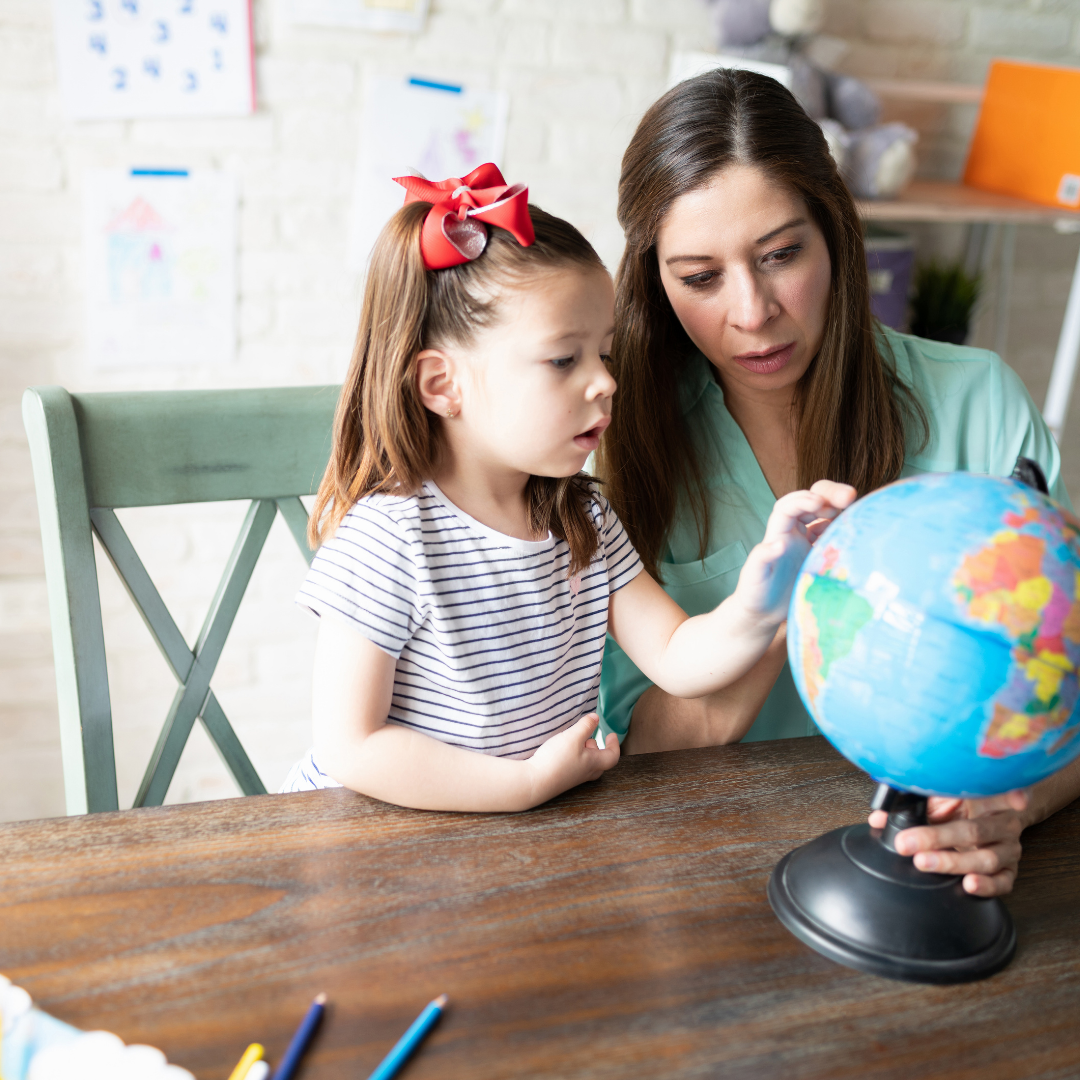 Tips and Tricks For Using Open Ended Questions
Even veteran teachers that have been trained to use open ended questions, can still struggle to use them effectively (Wasik & Hindman, 2013; Surchek, 2015). But, there are some things you can do to start using them today.
Follow up with an open ended question
When you catch yourself asking a closed question or when you realize your child is only answering with a "yes" or "no". Follow up with an open ended question like "why?" or "tell me more about that?"
Provide your child with wait time
Wait time is the amount of time the person who asks the questions waits for an answer before moving on, either to another question or providing the answer themselves. Generally, teachers have been found to wait for .7 - 1.5 seconds (Sullivan, 2019). However, by counting in your head to slow yourself down and providing anywhere between 5 - 15 seconds you can increase the quality of the answers you receive by providing your child with time to process the question that was asked and formulate their answer (McCarthy, 2018; Lorina, 2015).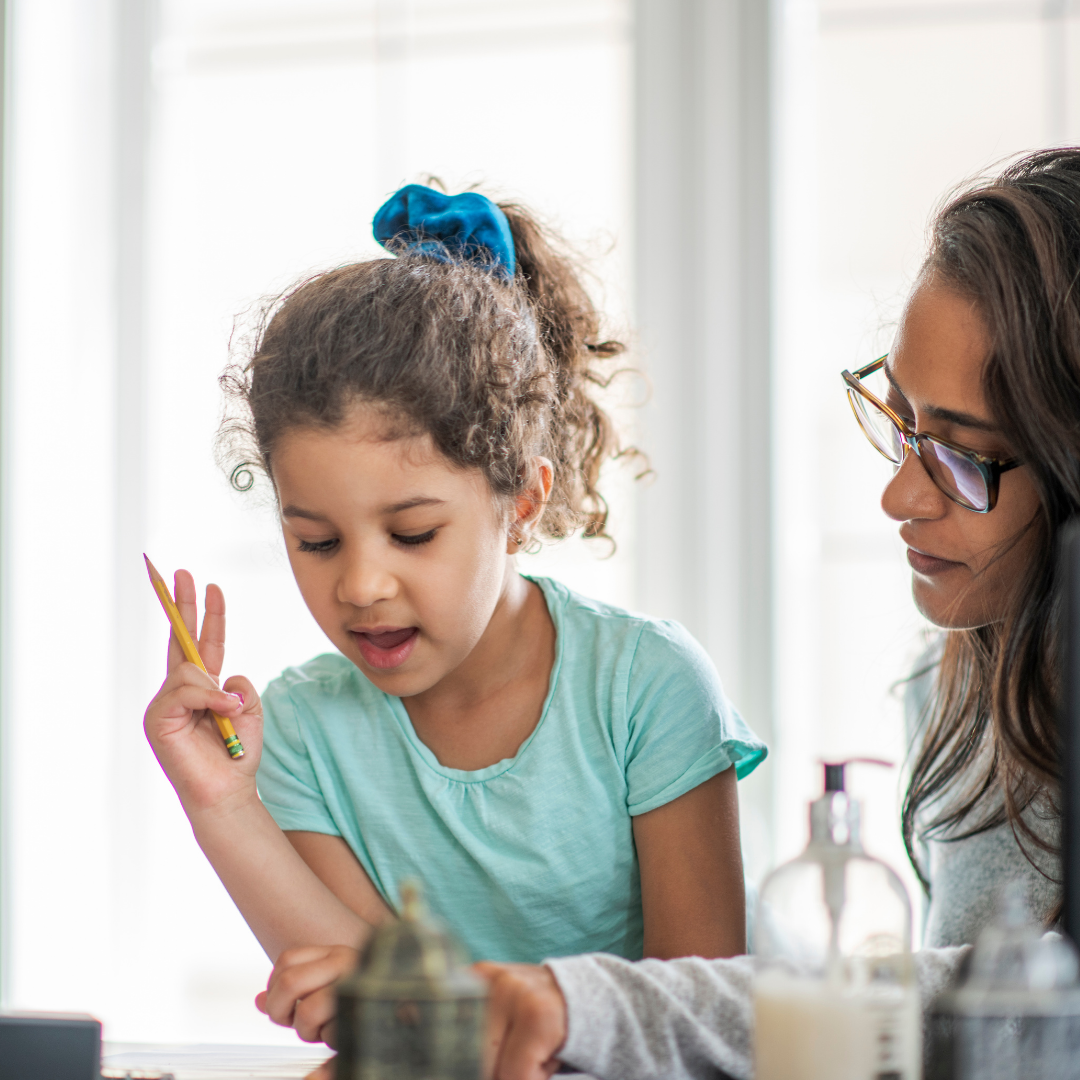 Use the question stems below
We've also created a free downloadable wallpaper for your phone that you can use to help remind you to use these questions and of the importance of really great questions.
Why do you think…?

How do you know…?

Why do you think this happened?

What do you think will happen next?

How are these the same/different?

I wonder why…

Tell me about what happened.

How did you do that?

Show me how you…?

Is there another way to…?

Why do you say that?

How could we find out…?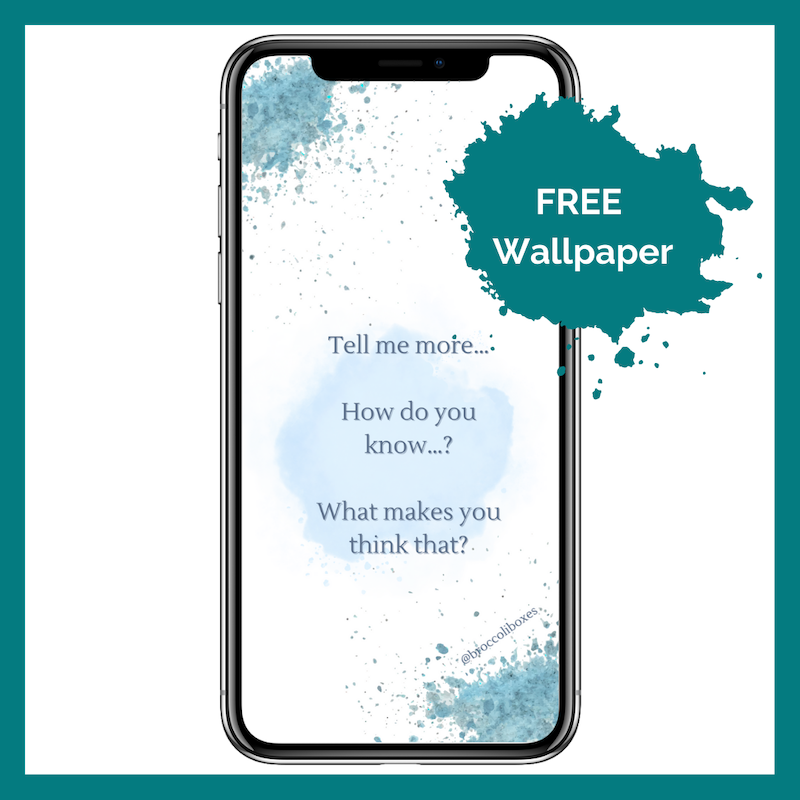 Use Broccoli Boxes: Sensory Kits for Kids
At Broccoli Boxes, we understand that coming up with high quality questions on the spot can be a challenge. In fact, Wasik and Hindman (2013) found that even many teachers, which are often trained in the importance of asking open-ended questions, struggle to ask a variety of open-ended questions. Therefore, in each kit we include a parent guide, which has several questions you can ask your child while playing with their sensory kit or while reading the included book to help start conversations, encourage connections, and promote the development of language and thinking skills.
Don't forget to grab your phone wallpaper!
References:
Lorina. (2015, May 15). Aussie Childcare Network. https://aussiechildcarenetwork.com.au/articles/teaching-children/using-open-ended-
McCarthy, J. (2018, January 10). Extending the Silence: Giving students several seconds to think after asking a question—and up to two minutes for some questions—improves their learning. Edutopia. https://www.edutopia.org/article/extending-silence
Mindtools. Asking questions effectively. https://www.mindtools.com/pages/article/newTMC_88.htm
Surchek, K. Asking open ended questions. http://info.teachstone.com/blog/teacher-tips-open-ended-questions
Strasser, J. (2019). Conversations with children! Asking questions that stretch children's thinking. Teaching Young Children, 12(3). https://www.naeyc.org/resources/pubs/tyc/feb2019/asking-questions-stretch-children's-thinking
Sullivan, J. (2019, October 28). Increase Student Learning in Only 3 Seconds. Faculty Focus: Higher ed teaching strategies from Magna Publications.
https://www.facultyfocus.com/articles/effective-teaching-strategies/student-learning-in-3-seconds/#:~:text=Improving student learning only takes,they have asked a question.
Wasik, B.A. & Hindman, A.H. (2013). Realizing the promise of open ended questions. The Reading Teacher, 67(4), pages 302-311.https://www.researchgate.net/profile/Barbara-Wasik/publication/259543528_Realizing_the_Promise_of_Open-Ended_Questions/links/59e4864c0f7e9b97fbf05ffb/Realizing-the-Promise-of-Open-Ended-Questions.pdf