"Some toys run on batteries, but the best toys run on the imagination of the child." - Ginny Yurich
Broccoli Boxes are best used when the child takes the lead, going wherever their imagination takes them. But, if you're like me there are times when I don't know how to play or I want to try to playfully incorporate some learning into the mix. These ideas are for those times. This is not an exhaustive list and isn't meant to be printed and checked off as you go (but it certainly can if that works for you). These ideas aren't meant to be gone through all in one sitting, but to follow the lead of your child. Some ideas may resonate more with your child than others. That's okay. In fact that's great! Go with it. Enjoy playing and learning together.
These suggestions will help develop a child's senses, fine motor skills, as well as their early literacy, math, and science skills. If a suggestion is too easy for your child you can either skip it or increase the difficulty slightly. The same is true if a suggestion is too challenging for your child. You can either skip it or scale it back. You know your child best. Follow their lead. The sensory kit most of all should be fun for them and for you.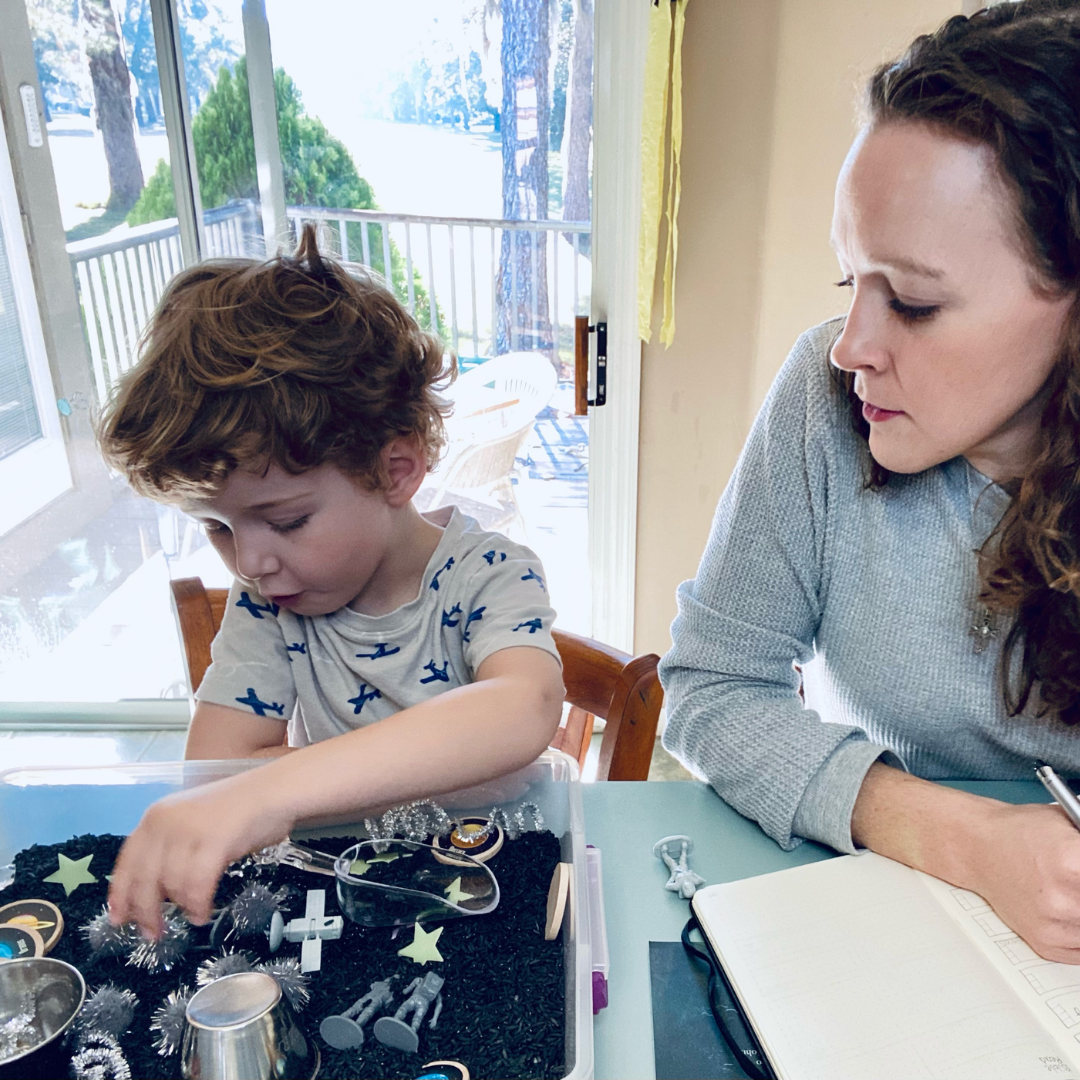 Early Literacy Activities
For a pre-reading activity, you can read the title of the book and scan the pictures. Asking "what do you think the book is about?"

To connect the book to their own life before reading, ask "what shape do you think the moon is?"

Snuggle up with your child and read the book just for the enjoyment of the book and the chance to snuggle together.

Brainstorm ways to solve the problem. Without passing judgement ("that's right!" or "no, that wouldn't work.") reply with "let's keep reading and find out!"

Read What Shape is the Moon? again asking about the characters feelings. Try pointing out their faces and asking how they may be feeling. Connect the story to their own life by asking if there has ever been a time when they disagreed with their friends and how that made them feel.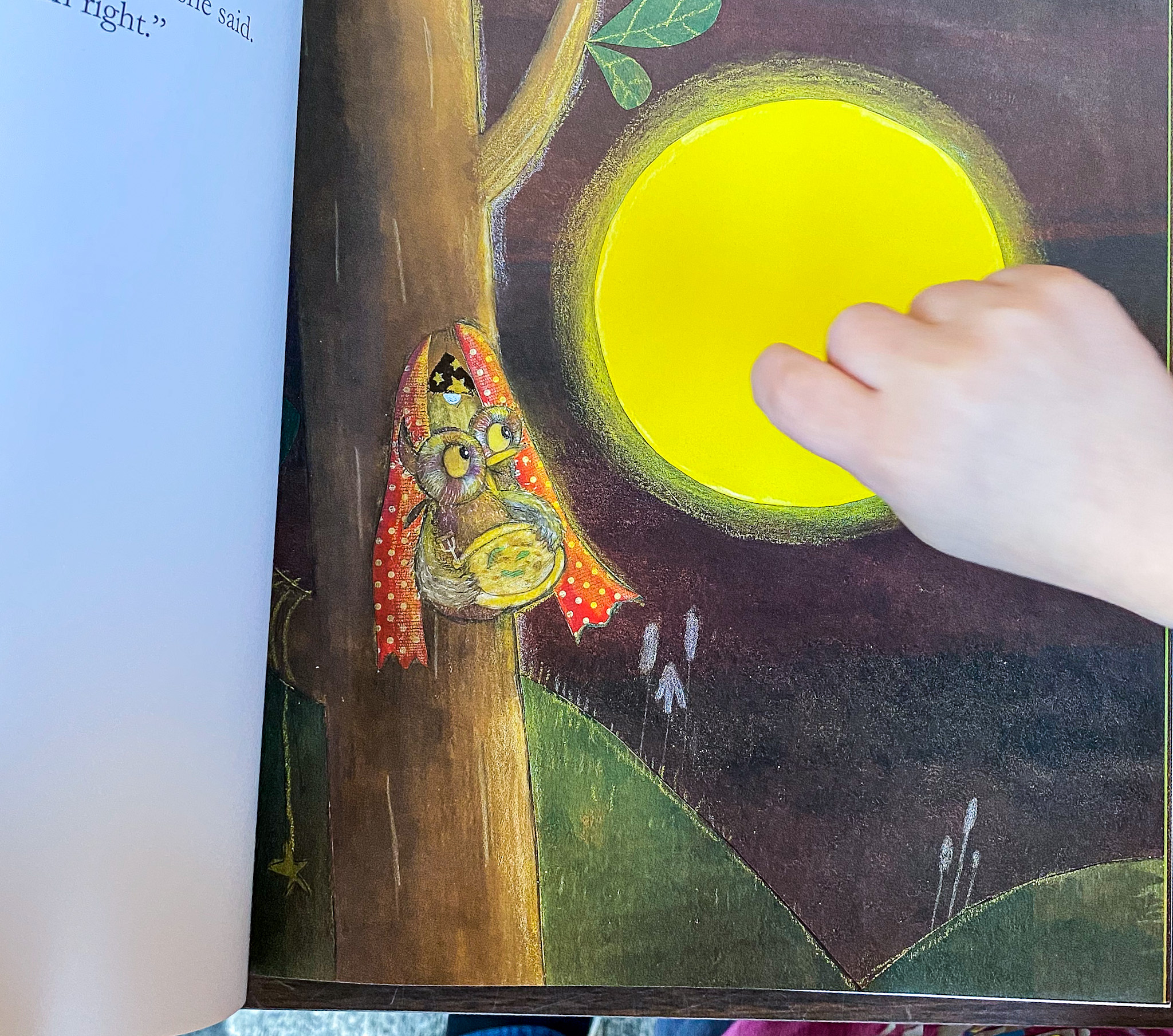 Look at the pictures in the story. Have your child point out what they notice on the pages.

While you are reading the story, stop every so often and ask them "What just happened in that part of the story?"

After reading, ask them to retell the story or what their favorite part of the story was and why.

Play "Two Steps in Space". Ask you child to do 2 things for you. For example, can you pick up the astronaut then put him under the cup. Then, it's their turn to give you a 2-step task. If this is too easy for your child try 3 or 4 step directions. Try including things directions that include placing objects: in front of, behind, next to, opposite of, and below other objects.

For young children, look at the pictures and ask about the sounds the different animals make.

For early writing or even spelling practice, remove the fillers from the box and have your child use their fingers to draw, write letters or numbers, practice writing spelling words. It's okay if they can't see what they drew using their hand to make the motion will help them create muscle memory.

You can also try having your child sort or find objects that start with certain letters or have a particular sound. For example, we were recently working on the "s" sound, so I could ask "find me an object that begins with the "s" sound. If your child is ready for more, you can write the word and have your child find the object you wrote. If they have difficulty reading the word, help them sound it out.

Fine Motor
Thread the pipe cleaners through the holes in the rocket. Unthread the holes from the rocket.

Ask your child to use the sensory dough to pick up stray rice that may have escaped the box and is on your counter or table.

Pour rice or poofs, or stars back and fourth from one cup to the next.

Use the scoop to fill the cups or to hide objects in the rice.
STEAM Activities
Interest Led Investigations - what is your child showing interest in? Is your child asking questions about rockets? Astronauts? Satellites? Astroids? Monkeys in space? The planets? Whatever your child is showing interest in dive deeper. Check books out from the library, watch videos, and learn more about their interest together.

Go outside and observe the moon. Call it by it's name full, quarter, crescent, waxing (getting bigger), or winning (getting smaller)
Play "Make The Number". Ask them to make a collection of 2 objects. Then, have them give you a number of objects to collect. Take turns with new numbers. For a variation of this game, ask who has more or who has less objects?

Make patterns together or create a pattern and have them finish the pattern. If they are just beginning with pattern, try simple alternating patterns. If that is too easy, add more to the pattern. Simple: planet, poof, planet, poof, planet, poof. A complex planet could be planet, planet, poof, rock, planet, planet, poof, rock.
Teach your child a pneumonic for the planets, if they're ready to learn the order. Try: My Very Elegant Mother Just Served Us Nachos (Mercury, Venus, Earth, Mars, Jupiter, Saturn, Uranus, and Neptune). Encourage your child to place the planet tokens in order and check it with the pneumonic they just learned.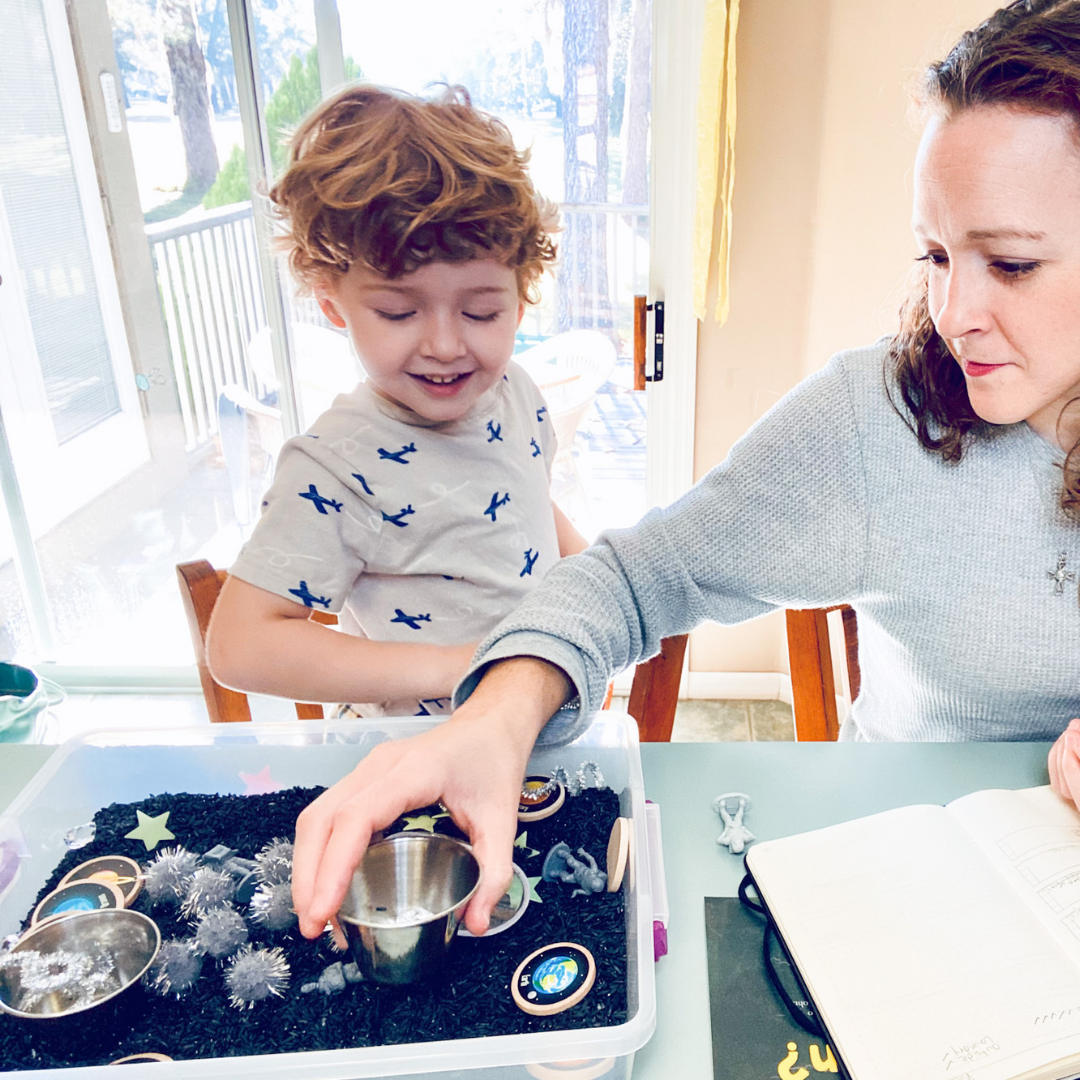 Take a picture of the moon from the same location

each night for a week (or once a week for a month) compare the pictures at the end of the week or month. Was the moon getting bigger or smaller? Could you tell a difference? Mention how cameras are tools that help us observe the world around us.

Look at the stars. Describe them. Try driving to a different location to look at the stars. If you live in the city try taking a drive to get away from all the lights and vice versa. Comment how the stars look different than they do at home. Are they brighter? More difficult to see? Do you know any constellations that you can point out?
Creative Play Ideas
Let your child use markers or paint to color their rocket.

Let your child play and explore without interruption and then join in when they ask.

Add rice to the sensory dough for a new and exciting texture.
Leave a comment and let me know which ideas were your child's favorite or if you found another great way to play.