It's belief in ourselves that helps us take flight." - Denise Brennan-Nelson
At Broccoli Boxes we exist to encourage families and strengthen communities. We do this in two ways. First, we provide creative, screen-free sensory play for kids and deliver it right to your door, so you can spend less time planning and prepping and more time playing and learning. Our themed sensory kits are expertly curated to be engaging and enriching and are inspired by children's literature. Sensory play encourages creative, open-ended play and provides opportunities for families to bond together and for children to enjoy self-directed play opportunities. The second way we encourage families and strengthen communities is by donating sensory boxes to children in foster care. Each donation provides foster families an ideal opportunity to begin to connect, build trust, and bond. We believe that by encouraging families we will also begin to strengthen our communities. Each month, we create a new sensory experience for your family and provide additional ideas to extend the play. These ideas also are not meant to be gone through all in one sitting, but to follow the lead of your child. Some ideas may resonate more with your child than others. That's okay. In fact that's great! Go with it. Enjoy playing and learning together. When it comes to play, I am an advocate for encouraging our children to take the lead. I strongly believe our kits (and any sensory play) are best used when the child takes the lead, going wherever their imagination takes them.
Literacy
Pre-Reading Activity: Read the title of the book and look at the pictures. Ask, "what do you think it might be about?.... Why?" Wait for a response (It's okay if it takes 10-15 seconds before they respond). Reply by saying, "hmm... that's an interesting idea! Let's find out!"

Read the book straight through and just enjoy the story together.

On a separate reading, point out Buzzy's faces and his body language. Ask, "how do you think he feels? What makes you think that?"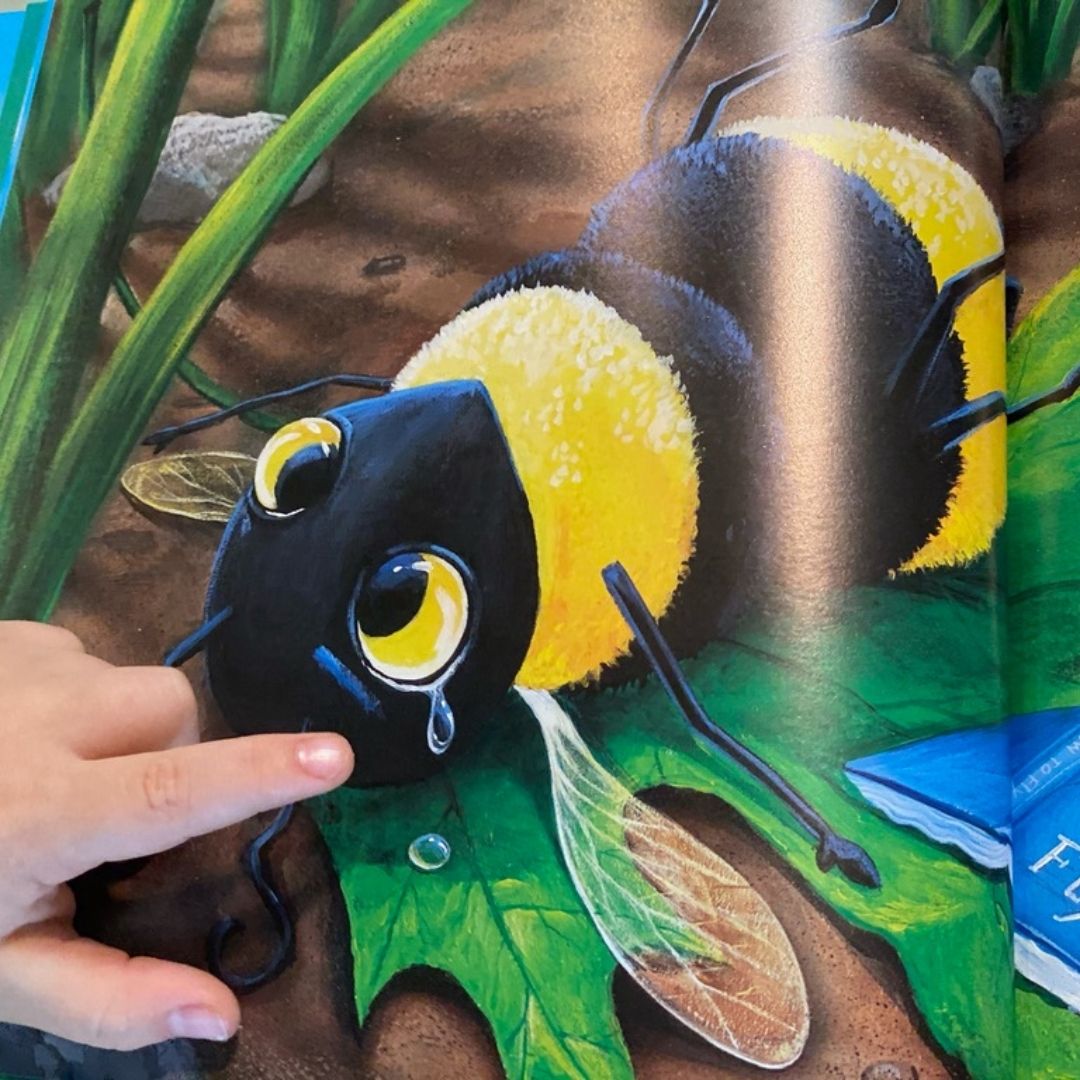 Connect Buzzy's emotions back to their own life by asking if they have ever felt (sad, scared, anxious, excited, they didn't believe in themselves)? Offer up a time when you felt one of these emotions.

After reading, ask them which part of the story they liked best and why?

Point out rhymes in the text. If your child is old enough, see if they can find the rhymes in the text or if they can create their own.

Using the Insect Sensory Kit, re-enact the story with a different bug that may be scared to do something. For example, the butterfly may be scared to fly or an scared to carry a rock. Help the critters learn to trust themselves again.

While reading, when you come across a new word for your child quickly define it in child friendly terms, re-read the sentence and keep going. Some words that your child may need defined:

Declined: said no

Grief: sad

Destination: the place their going, home

Anxious: nervous or scared

Desire: want

Envious: wanting what someone else has
Talk about something they used to be scared to do, but they're not anymore. Point out how good that feels to be able to do it now.

Ask your child to create their own story with insects. They can write the story, if they're able. They can tell the story to you, while you write it down. These stories can later be illustrated.

Use the insects and bugs in the kit to create and act out their own creative stories. If they need encouragement, you can begin the story and begin acting it out.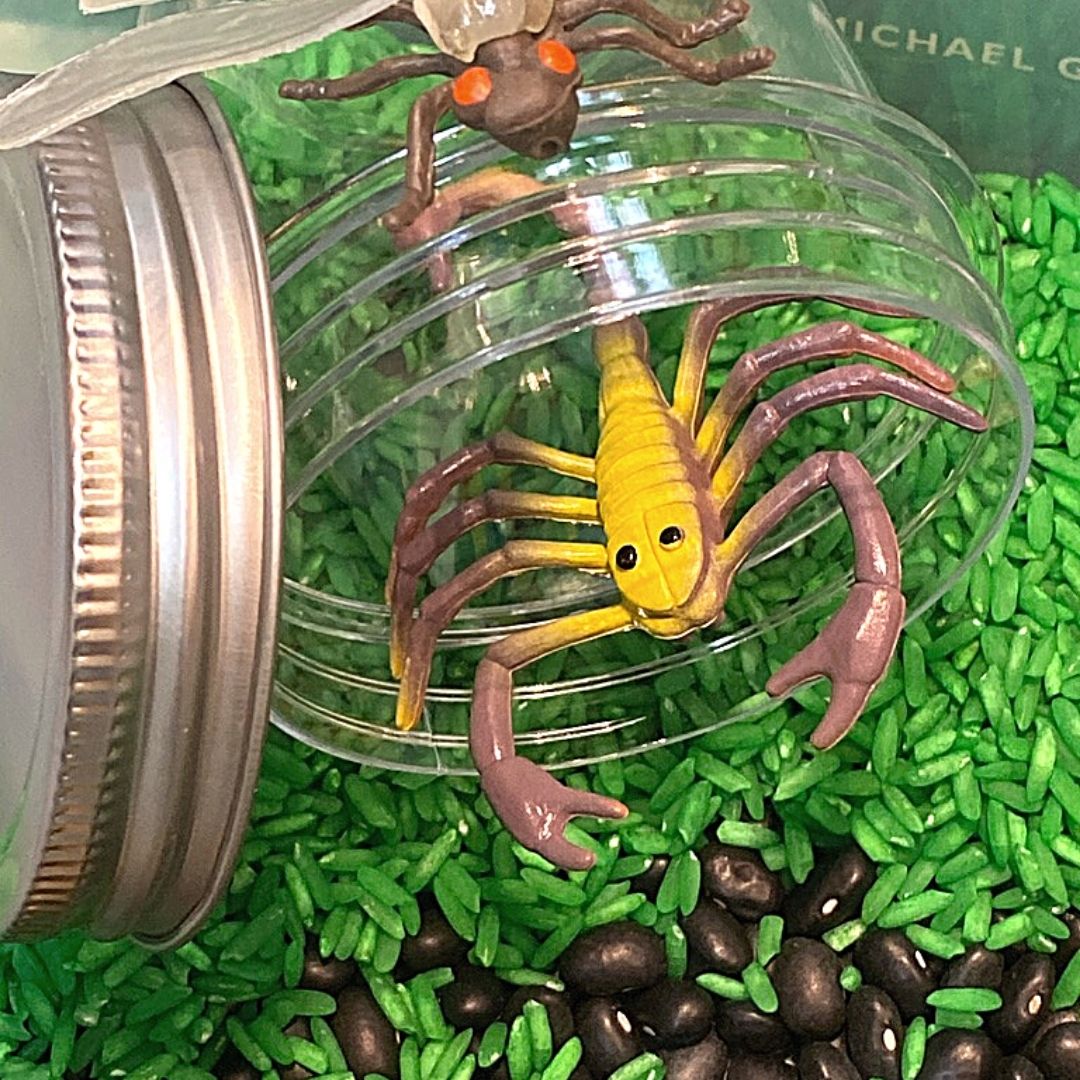 STEAM (Science, Technology, Engineering, Art, and Mathematics)
Make patterns with the different materials. For example: rock, bug, rock, bug...

Start a pattern for them to finish. Let them start a pattern for you to finish.

Count the legs on your bugs. If it has 6 legs call it an "insect".

Separate your bugs into 2 groups, if applicable, those with 6 legs (or insects) and those without.

Go for a walk and look for different bugs and critters. If you can, count the legs and then identify it as either an insect or not.

Hide bugs in the box for your child and then use tools to find them. Switch roles.
Notice out loud that some of the bugs are able to hide easily in in the beans and others seem to disappear or hide easier in the moss or leaves. Start a conversation about camouflage and point out that bugs and other animals are able to blend into their surroundings in order to hide and protect themselves.

While out for a walk or playing outside, keep an eye out for all kinds of animals that are camouflaged.

While reading

Buzzy the Bumblebee,

point out that Buzzy lives underground. Do a quick google search with your child to learn more about where bumblebees live to see if the book is accurate.

Ask your child which item in the kit is the heaviest, the lightest.

Choose 2 objects and ask which is lighter or heavier.
Gross and Fine Motor Skills
Play "Move like Bugs". Put on some music and call out different critters to dance like.

Use the tools to pick up bugs, rocks, moss, beans and transfer them into the jar and back out.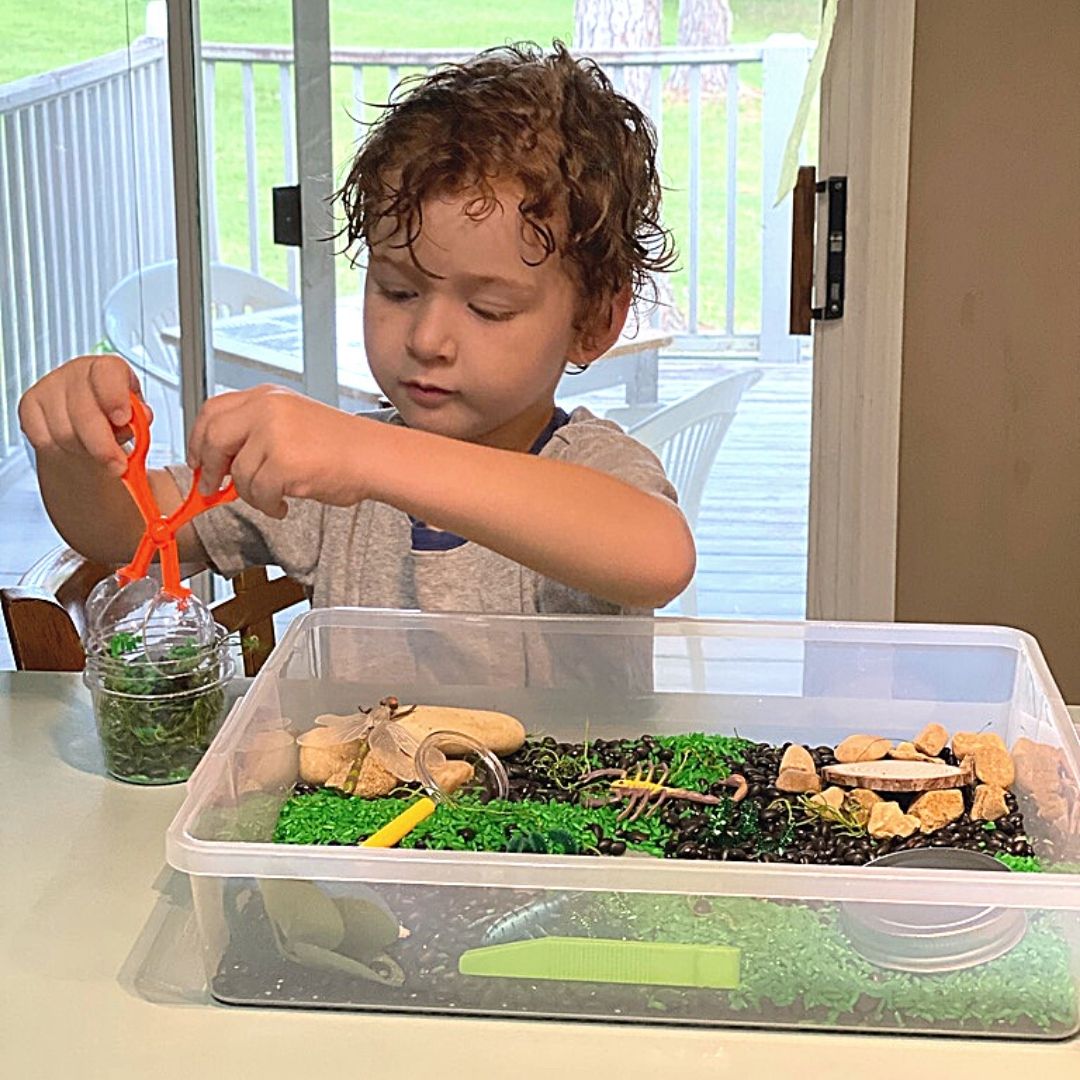 I hope these ideas are helpful and spark lots of ideas of your own. Leave a comment and let me know which idea your family had the most fun with. I'd also love to see what you and your family have come up with, share your ideas and your kids creations on Facebook or Instagram using the #BroccoliBoxes.