If you're looking for a fun and educational activity to do with your child, playing with an airplane sensory kit is a great option. The Airplane Sensory Kit can provide an exciting and interactive play experience while also teaching your child about airplanes and engineering. In this blog post, we'll explore some educational ways to play with the Airplane Sensory Kit by Broccoli Boxes. From sensory exploration to imaginative play, these activities will help your child develop essential skills while having fun. So let's dive in and discover the possibilities of this airplane sensory kit!
Kit Ideas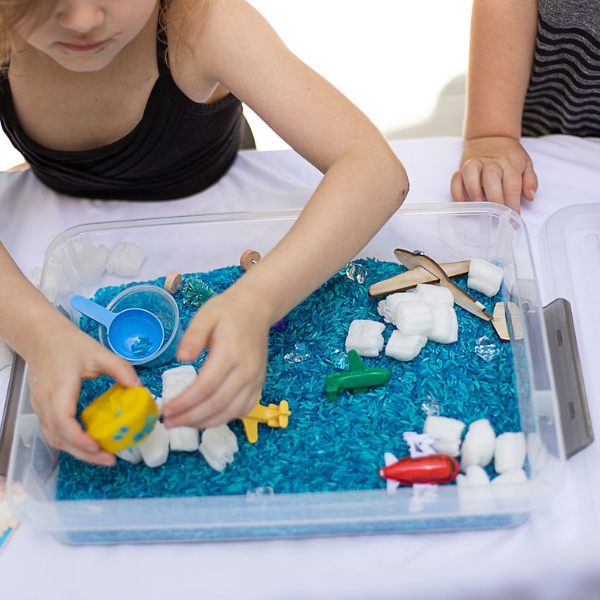 Encourage your child to explore the different textures and scents while flying the airplanes through the rice. When discovering the different textures, be sure to describe them. Are the planes smooth and hard while the rocks are uneven and hard?

There are several different types of objects in your kit. Separate the pieces by their characteristics such as by color, size, or shape. How many different ways can you come up with to sort your pieces?

For fun number practice, count the different types of object and how many of each there are in the kit. Talk with your child about which object has the most pieces, the least pieces, or if there are an equal number of pieces.

For a unique sensory experience, mix the rice and the play dough together. Then, notice the new texture that is created. Try asking your child questions about the experience such as: Did the smell change? Did the two objects keep their own color or did they mix and create a new color?

Assemble and paint or color your custom wooden airplane.

After reading

Violet the Pilot

by Steve Breen, encourage your child to use their kit to recreate the story or they can create their own airplane adventure.

Embark on an airplane race. Use the pull back airplanes to race against each other. Encourage your child to use problem-solving skills to determine the best way to make their airplane go faster.
Book Ideas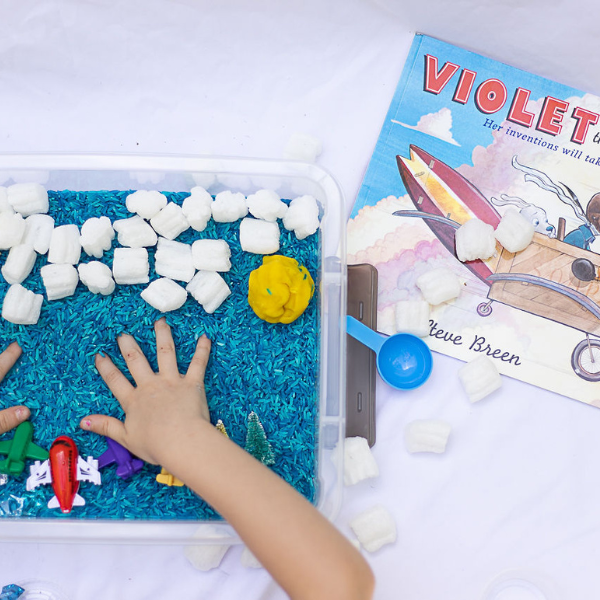 In Violet the Pilot by Steve Breen, a young girl uses her love of flying and her problem-solving skills to save her town from a devastating storm.
When reading the story with your child for the first time, cuddle up and enjoy the story. When your child inevitably asks to hear it again, here are some activities and questions you can do together to get even more out of the story. Use only a handful of the ideas each time you read. Keeping the experience light and fun, will continue to encourage a lifelong love for reading and learning.
In an easy conversational tone, before reading, look through the pictures with your child. Then ask them what they think the book will be about and why.

Notice the airplane on the cover, "wow, that's not a normal airplane!" Then, talk about what makes it special.

Read the title and point out that it rhymes. Try adding in your child's name and asking them if it rhymes. Then try pairing your child's name with a word that does rhyme. Smile and have fun with it. (ex: Ted the pilot- doesn't rhyme, but Ted makes the bed does rhyme).

While reading the section when Violet rescues the Boy Scouts, talk about a time your child has helped others.

Throughout the story, Violet encounters several setbacks. How does Violet demonstrate her determination and courage throughout the story? Talk about a time your child has also shown determination and courage.

Violet loved flying from an early age. Use the story as an entry point to connect with your child about something you loved as a young child.

What does Violet want to be when she grows up? Ask your child what they would like to be when they grow up. Encourage all answers.

Gather items like empty egg cartons, cardboard boxes, or old appliance parts and build a pretend machine with your child. Give it a funny name just as Violet names all of her flying machines.

Violet encounters some other children that are not kind to her and is bullied at school. This can be a very powerful opportunity to discuss kindness with your child as well as help them develop a plan for how to respond if and when someone is unkind to them.
Playing with an airplane sensory kit is an exciting and educational way to engage your child's senses and promote learning through play. By providing a variety of sensory experiences, fine motor activities, and imaginative play opportunities, you can help your child develop essential skills while having fun. With the Broccoli Boxes airplane sensory kit, you can create a stimulating and interactive playtime experience for your child, and inspire their curiosity about aviation and the world around them. So, why not give it a try? Get your hands on an airplane sensory kit today, and watch your child's creativity and imagination take flight!