Looking for additional ways to play and sneak in some fun learning with your kids while playing with their Color Mixing Chameleon Broccoli Box? Have no fear. We've got you covered.
If you've been around here for a while, you probably already know that my number 1 tip is to follow your child's lead. You will be amazed where their imaginations will take them! However, if you're looking for a few ideas to subtly steer the play or maybe your child is having trouble getting started, here are a few ideas you can try.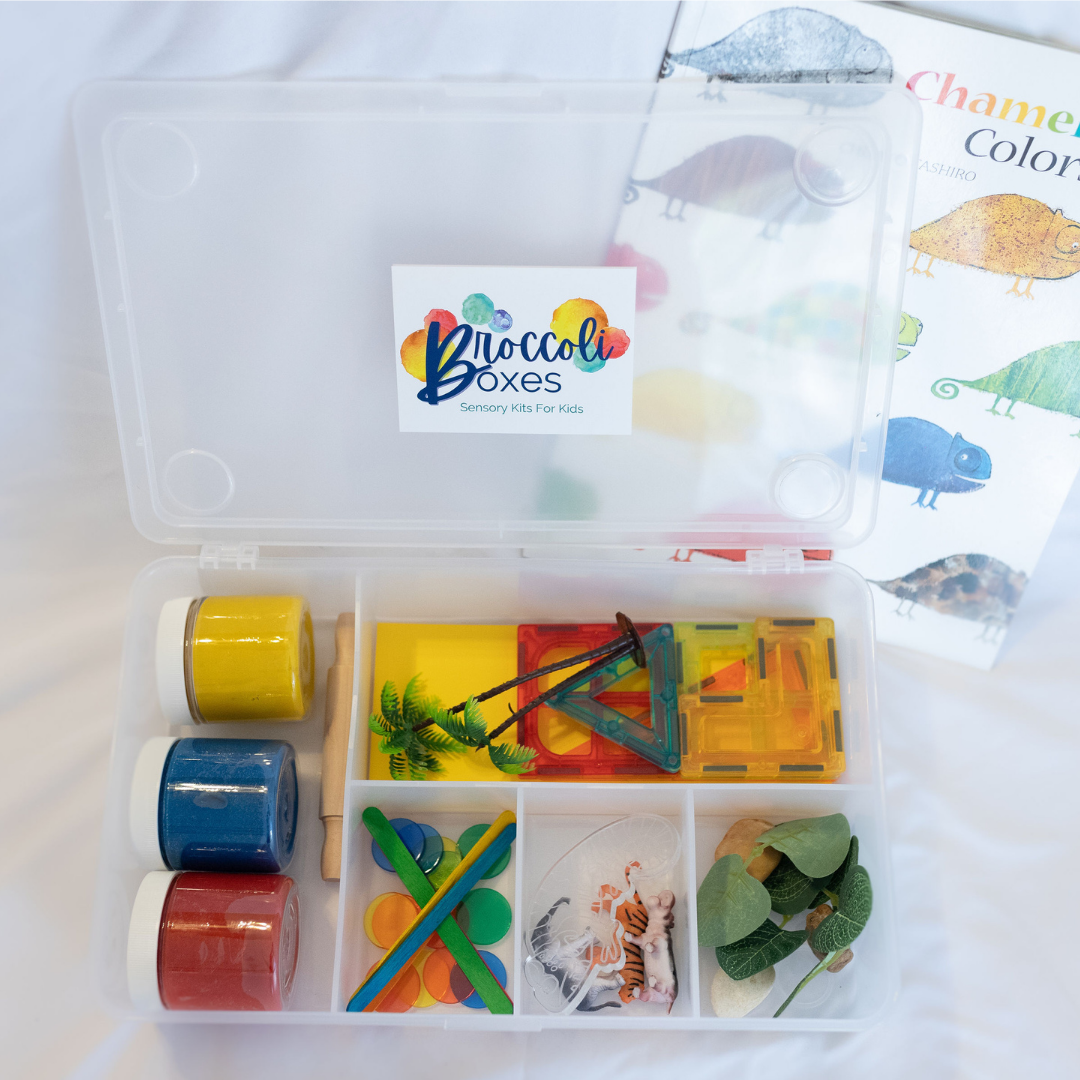 Book Suggestions
Before reading, read the title and look at the pictures. Ask your child what they think the book might be about and why they think that.

Find the chameleon hiding in the illustrations and identify how he is camouflaged. Ask your child how the chameleon used the surroundings to hide himself.

Identify words in the story that your child might be unfamiliar with -some suggestions include

surroundings

,

complaining

,

rushed

, and

trembling

and create child-friendly explanations for them. For example, "when the animals rushed at Chameleon, they moved very fast toward him."

The last two pages of the book have multiple chameleons hidden in the illustration. Ask your child to find them and count them together.

After reading the story, ask your child what colors/patterns they would be if they could choose anything.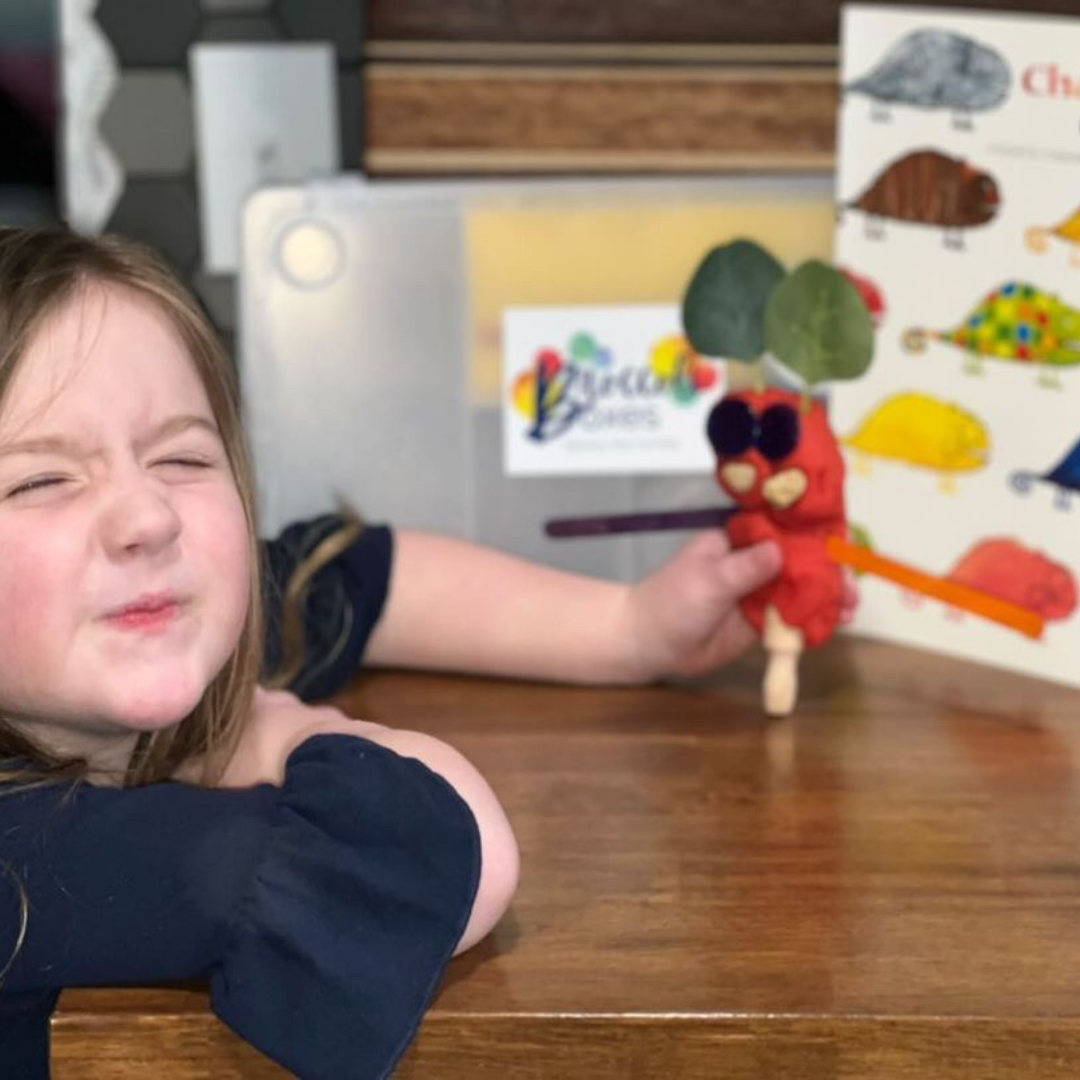 Kit Suggestions
Identify and name all of the colors represented in the kit (including craft sticks, magnetic shapes, animals, and transparent circles).

Discuss primary (red, yellow, blue) and secondary (orange, purple, green) and how primary colors blend together to make secondary colors. Engage your child in mixing a bit of yellow and blue sensory dough to observe color mixing. Repeat with red and yellow, as well as red and blue.

Use the animals to make footprints in the dough. Ask your child to guess which animal made the prints. Now switch and you guess after your child makes dough.

Use magnetic shapes to build a house or shelter for the animals.

Explain that the word "translucent" means to be able to see through something. The circles and magnetic shapes in the kit are translucent.

Encourage your child to hold two of the translucent shapes together and see what color they make. Repeat with other translucent shapes to make more secondary colors.

Use the chameleon shape and sensory dough to camouflage the shape. You can also paint onto the chameleon with acrylic or tempera paint.

Identify the shapes of the ma

gnetic pieces. Use glue (or dough) to replicate those shapes with the craft sticks.

Create shapes with the craft sticks and count the number of sides on each shape. Use dough to keep the shapes together.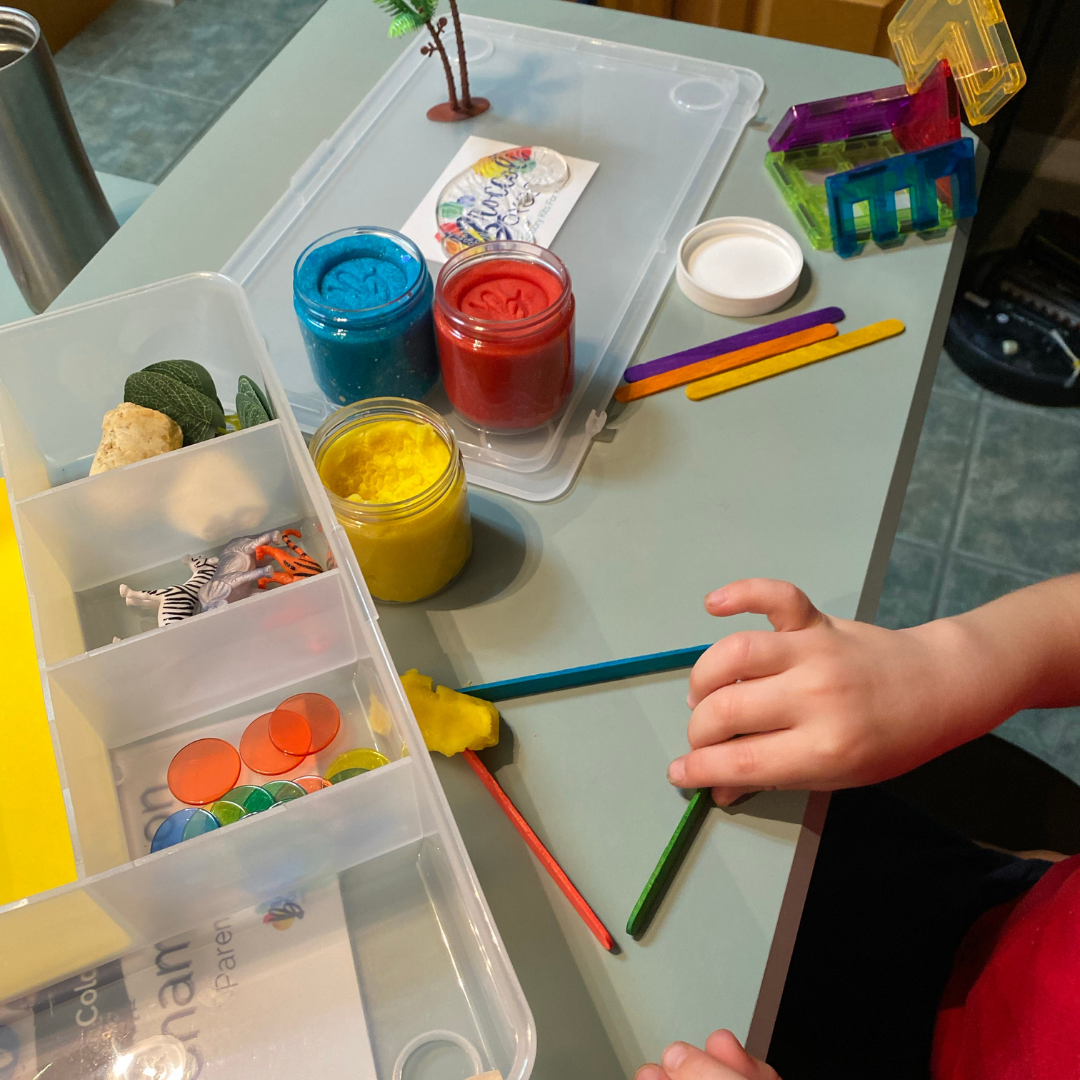 These Ways to Play are not meant to be an exhaustive list, after all the possibilities are literally endless, but more of a starting point. They also don't need to be printed and checked off as you go, but certainly can be if that's what works best for you and your family.
After experimenting with a few of these, let me know which one worked best for you!