Planning for ease in the new year is possible for all families, no matter where you're at right now.
By defining what's important to you and your family, and then using that framework to prioritize and plan, you'll be able to create a family plan that reflects your family's vision, values, and priorities.
Define Your Family's Mission Statement
The first step to planning for ease in the new year is to define your family's mission statement. A family mission statement makes it clear to all family members what your family stands for (and what your family is against). Pick a time when your family is feeling creative and relaxed, such as at Sunday pancake brunch, or plan a casual picnic where you can discuss this together.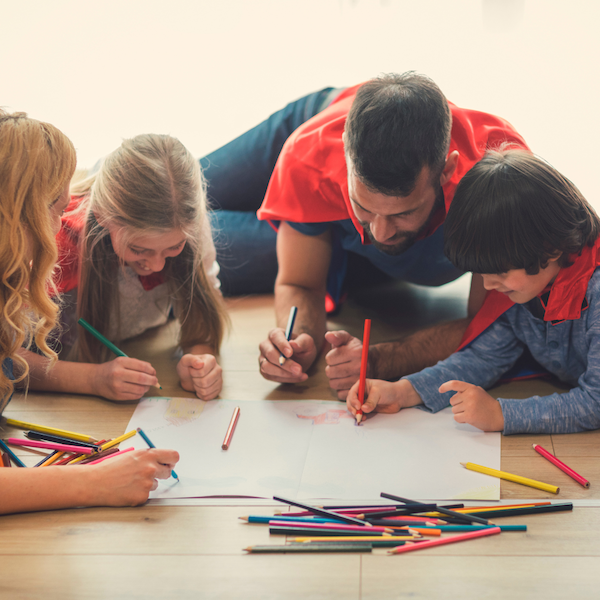 Be sure to include all members of the family in creating your family mission statement - this helps everyone understand the importance and understand that no matter their age, they also play an important role in the family.
Bring along a poster board or some plain paper and your favorite set of markers. Even your younger children can play a role by getting the markers to write out the statement, coloring designs on around the edge of the paper, or sharing what they think is important for the family.
Craft Your Family's Vision
Have all family members share ideas about what they envision the family's future to be. Encourage them to dream big and make sure you write down even the silliest ideas on your paper - you'll love looking back at this in the years to come.
Document Your Family Values
Have each family member share what values are important to them. For families with young children, have the parents or older children go first so they can get an idea of what values are. This list can include anything from not hurting other people or animals, giving to charity, being honest, having fun, etc. Your family values are unique to your family.
The Importance of Family Foundations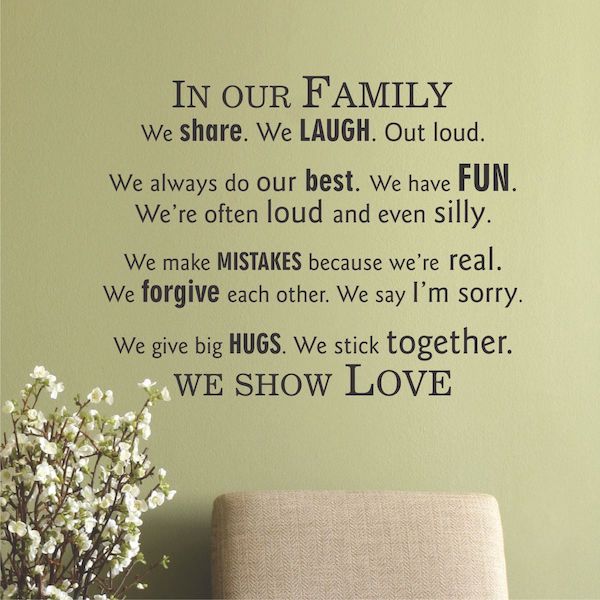 You've seen those signs.. "in this family we…", Now you're going to craft your own. Why? Because referring back to this regularly will help you plan.
Here's a quick template you can fill in:
In the [name] family,
We value __________
We embrace________
We support_________
We love to ___________
We respect __________
In our family we
We listen ___________
We are ___________
In our house we
We apologize__________
We treat each other _________
Now, sign your names at the bottom and hang this somewhere in your house where you can see it daily to remind your family of what you stand for.
Now that you have your family's foundations established, it's time to start planning.
Define Your Core Family Areas
There are eight core family areas: education/homeschooling, sports/recreation/hobbies, travel, extended family, finances, family enrichment, community service/charity, religion/spirituality. You may also wish to add additional areas like a family or personal business. Now, it's time to go through this list and rank these areas in order of priority. Here's an example:
Extended Family

Education/Homeschooling

Finances

Sports/Recreation/Hobbies

Travel

Religion/Spirituality

Community Service/Charity

Family Enrichment
The top three areas will be your priorities for the next year. Now, this doesn't mean that the other areas aren't important (or that things won't change by February). But by choosing these three areas, you are saying that these areas deserve a place of importance for the next year and you will plan for your family accordingly.
Going back to your family's foundations will help you rank these areas according to priority. In addition, ask yourself questions like, "what do we truly want for our kids?" and "what truly makes us happy?" and "what brings us joy?". You may also want to consider what your non-negotiables are for the next year and jot them down, such as planning a trip to visit an elderly family member who is ill.
Prioritize Based on Family Foundations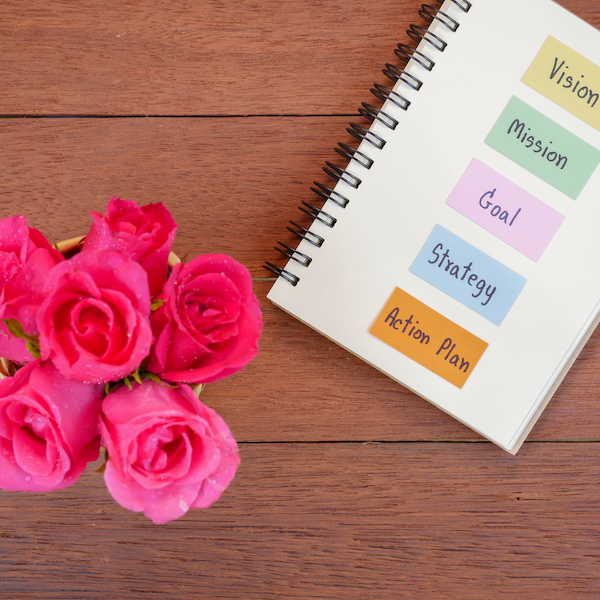 Now that you have your top three priorities and your non-negotiables, pull all that together to start planning. Using the above example, we're going to focus on extended family, education/homeschooling, and finances this year.
Having these priorities clearly defined allows you to avoid the crushing weight of expectations and give yourself the permission to say no to things without guilt. For example, maybe you get an email about a sale on a Disney Cruise you've been thinking about taking your family on. It looks great, the price is perfect, but - this year you've decided to focus on other things. It's ok to delete that email and remember more sales will come. The trip to spend time with extended family and focus on your finances will mean that next when a sale inevitably pops up you'll be ready with the money saved and time set aside for your cruise.
Planning for Your Priorities
First, brain dump everything on to a sheet of paper or doc related to your top priority. Using our example of extended family, make a list of the family members you'd like to visit, reach out to, meet somewhere, call more often, whatever your ideas may be. Also keep track of how you'd like to interact with them.
Do the same for your other top priorities. For homeschooling/education, what do you want to focus on this year? Is handwriting a priority for all your kids? Do you want to add in more science experiments? Whatever is on your mind, jot it down.
Once you've finished your brain dump, start filling in slots in a monthly planner. For example, for January, maybe you don't want to travel due to the weather, so it's a perfect time to start weekly calls to your great aunt. Just write down January - weekly calls to Aunt Millie, buy science center membership with gift money, set aside $25 a week for cruise. Do this for each month - take the ideas you jotted down and move them into the month you'd like to do them. These become your monthly themes or maybe even goals.
From here, you can either go further and plan out week by week or leave it as is. Make sure you give yourself extra space in each month for things that pop up that may be aligned with your priorities, like a free class on family budgeting at the library.
Also give yourself permission to say no (or maybe later) to things that aren't aligned with your family's foundations and priorities. This may be a challenge at first, but you'll find it's extremely rewarding and freeing to run your family this way (and others will ask you what your secret is).
---
Written by Meagan the founder of New Leaf Digital. Meagan is a Certified Director of Operations and Vetted ClickUp Consultant. She helps women-owned small businesses whose messy and disorganized systems are costing them money create simple and strategic systems. She helps her clients break down their big visions so that they can make a bigger impact and be more innovative while having more freedom and less fires. Her mission is to help women be more innovative, because women are driving the change this world needs and we need even more of it! She is also a homeschooling mother of 3 living in Pennsylvania. For more information or to see if Meagan can help you, you can find her online at newleafdigital.net.